Over 60 Dating Online, Meet Older Singles at LoveAgain.com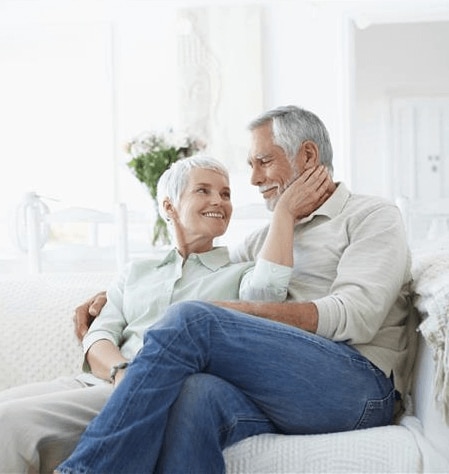 Over the course of your lifetime, how many times have you gone out with someone with the hopes that they will be the one? You go out with them and have a nice time, but you don't feel that spark that you were looking for. When you're younger, it's not that big of a deal because you have time on your side. However, if you're like many singles who are over sixty, you might feel like you're pressed for time and you have to find a companion sooner rather than later. That doesn't have to be the case at all. In fact, there are plenty of singles who are over sixty dating again like they were young adults, which is fantastic!
With that said, for those who are curious about dating again at this later stage of life, it can be a little scary. Especially if you've been married or in a long-term relationship and your partner either passed away or you decided to go your separate ways. Fortunately, you needn't feel like an uphill battle trying to find love again. Continue reading because we have some great tips that will help ease your fears about dating after 60.
Advice for Those over 60 Dating Again
It might have been some time since you've gone out on a date, so you may not be too familiar with how dating for the over 60 crowd works. Well, you can rest easy because it isn't that difficult than if you were younger. Granted, the "rules" of dating may have changed a bit since the last time you were actively seeking companionship, but it isn't that different. Here are some tips you might want to keep in mind when dating over 60.
Dress to impress. First impressions are important, even as someone over a particular age. You want to show your date that you have your act together, and you have some pride in your appearance.
Know how to talk to someone. As someone who is over 60, dating someone new can leave you feeling lost when it comes to striking up a conversation. Just be polite, considerate, and show them how charming you are. You've got plenty of life experience under your belt, so make it work for you!
Don't be afraid to approach someone who is sitting alone. Whether you are at a bar, a museum, library, or anywhere in between, if you find someone that you're interested in, introduce yourself! You've only got one chance, and you don't want to let it pass you by because you were too shy to approach them!
Always act like you're interested in the conversation. One of the biggest pet peeves people who are all over 50 complain about when meeting someone new is that when they are having a conversation with them, they seem not to be paying attention! If you want to get on someone's good side, always show interest in what they are saying.
Why to Choose an over 60 Dating Site to Find Love
Those tips can be used when you meet someone while you're out and about living your life, but they can also be used when you try any of the dating sites for over 60 folks. You'd simply be amazed by how many people are joining some of the top rated over 60 dating sites rather than leaving it all up to chance!
Several years ago, it wouldn't be uncommon for people to be skeptical when you would talk about your intentions of joining an over 60 dating site because you wanted to find some form of companionship. Today, people are more open to the idea of joining an online dating service to help them find love. In fact, among the mature crowd, over sixty dating sites are the preferred way of meeting a potential partner. These sites allow you to meet other folks who have similar backgrounds and life experiences. But not only that, people find that when you join one of the best dating sites for the over 50 crowd, they are more likely to find companionship on a platonic level as well as on the romantic level.
The beauty of joining any of the over 60 dating websites is that the service is incredibly convenient and efficient. Take a moment to reflect back on your previous experiences with dating. How many times did you have to go out with someone only to discover that you had absolutely nothing in common? Not only had you wasted precious time, but there was probably other things that you would have much rather have been doing, like spending time with your family. With online dating, you have the ability to learn a little bit about the other person first before you decide to go out with them, thanks to the search function on the site and the opportunity to check out their profile. Plus, if you do decide that you'd like to get to know them, you can send messages to people you fancy. Then you have the opportunity to say, "I think we'd get along great in person. Let's meet up for coffee and see where things go."
Of course, you shouldn't be taking our word for it. Try LoveAgain, one of the premier dating websites for singles over 60, and get the online dating experience for yourself. What have you got to lose?