Singles Try Online Dating After Divorce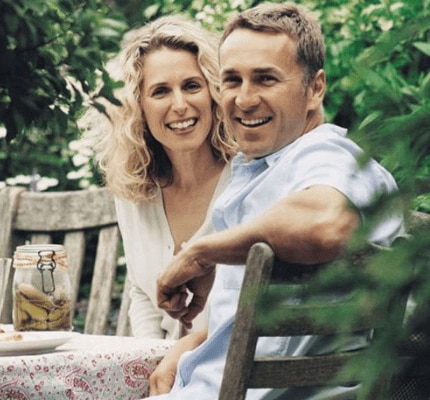 If there is anything more frightening than dating after divorce, we have yet to discover what it is. There is no denying that the whole process of going through a divorce is going to leave you feeling a little skittish, especially when it comes to the very thought of finding love after a divorce. Many people are so turned off by the idea of being recently divorced and dating again that they refuse even to give it a second thought. This is probably because the end of the marriage was traumatic and painful; they might feel like there isn't a point in trying to find someone that they could fall in love with because they might be afraid that the relationship will end just like the marriage did. However, there are many people who are anxious to start looking for love after divorce that they'll even start dating during divorce proceedings! No matter what point of the divorce that you find yourself, you can find plenty of singles joining a divorced dating site on a daily basis.
Form Strong Relationships After Divorce Online
People who join a divorce dating site do so because they understand that it is possible to fall in love after divorce, and not everyone they meet is going to be like their ex. There are thousands of people on any given divorced dating site that they join sites like LoveAgain.com with high hopes. Don't get us wrong, when you join a site for those who are divorced and dating again, you might want to find someone to fall in love with, but you can also find people who are interested in forming a friendship with someone who understands what it's like to go through a divorce. In most cases, people join these sites because they need a non-judgmental ear to listen to them. In fact, there are plenty of instances where relationships after divorce begin because they needed a sounding board. Whatever you might be looking for, whether you are interested in finding love after divorce, a new friend, or someone who understands what you're going through, you can find it online at LoveAgain.com.
Singles Try a Divorce Dating Site for Another Chance at Love
What happens when you want to start seeing someone but your divorce hasn't been finalized yet? Does that mean you have to put your love life on hold until the marriage has been dissolved completely? Some people would say yes, but we feel that you are in the process of ending the marriage so go ahead and start dating during a divorce, no matter the stage. You'll find that the members of a divorced dating site are understanding and many are in the same boat as you are, so why not? Divorce proceedings can take forever, and your love life shouldn't be put on hold.
How to Start Dating After Divorce
For those who's gone through the divorce process and even took some time to reconnect with themselves, they might wonder how to start dating after divorce. It's completely natural to feel at a loss when re-entering the dating world when they've been married for a while, have gone through a divorce, and maybe even decided to take some time being single. The very notion of putting yourself out there again after that big of a life event could certainly make you a little eerie about attempting to look for companionship with someone else. However, if you are open to the idea of falling in love again with someone new, we suggest that you should take your time and only start dating when you feel truly ready. You shouldn't put yourself through anything unless you really feel like you are in an emotional state to handle it.
How Do I Know if I'm Ready to Start Dating After Divorce with Children?
One of the biggest concerns people have is in regards to when they should start dating after divorce with children. Many people put it off for a while because they don't want to confuse the children by bringing someone new around. They'll even go so far to not date and just wait until the kids are older and even out of the house! You should never feel like your love life has to be put on the back burner. There are countless single parents on LoveAgain.com who are dating post-divorce, and you can join them. All you have to do is sign up for a membership today and start meeting divorced singles in your area. Should you meet someone, you're interested in, be honest with your children and let them know what you're doing. Explain to them that although you are dating someone, they will never replace their other parent. You'll find that when you are honest with your kids and keep them involved, things will go much smoother, and everyone involved will be happier.