Men over 40 Join Online Dating to Find Love at LoveAgain.com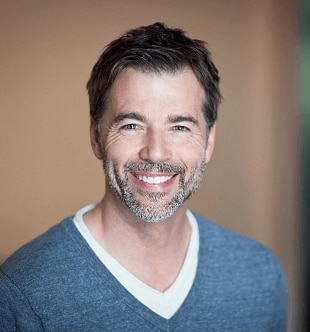 You might have been married or in a long-term relationship, and for whatever reason, now you find yourself single, feeling lonely. Here you are, wanting to share your time and your life with someone special and have a hard time finding that person. You aren't alone — in fact, there are a lot of men over 40 who are in the same boat as you are.
Why Single Men over 40 Should Try Online Dating
Did you know that folks who are mid-life are among the fastest-growing demographic to try their hands at finding love online? Understandably, trying to find love at this stage presents particular challenges, but that shouldn't stop you from pursuing the companionship and a fulfilling relationship that you are looking for. Interestingly enough, the top complaint single men over 40 have in regards to finding a partner is that women who are past a certain age have a lot of baggage, and they can be a little (or a lot) hard to get along with. To be fair, women have also said similar things, but they've gone one step further to say that they don't know where to meet single men over 40.
Guys, this is your chance to make yourself an account on a dating website that is geared toward helping mature men and women find one another. When you join one of these sites, like Love Again, for example, you're going to encounter plenty of women who want to meet men over 40. For some, the most appealing part of being a member of these websites is that you can talk to women at your leisure. This means you can check your messages while waiting in the taxi, killing time while on lunch break, or even when you are sipping on your morning coffee downtown.
Women Prefer Dating Men over 40
Let's face the cold-hard truth that the older we get, the more self-aware about our appearance we become. It's an understandable concern, especially now that you are single, and trying to date again. If you try traditional dating websites that cater to everyone, you might feel overwhelmed by how many young people there are, you may even feel like you won't be appealing to anyone. Luckily, some websites are designed to singles who long for dating after 40. For men, this could feel like there has been a weight lifted off of your shoulders! Now, you won't have to worry so much about your not-so-buff body or not to have such a thick head of hair that you may have when you were younger.
The ladies you'll find on these mature dating sites want to meet single men over 40, and they understand that aging is just a part of life. In other words, you should embrace your age and know that there are plenty of lovely ladies who are interested in dating men over 40. In truth, the reason why women of all ages prefer to date older gentlemen is that they carry themselves in a way that exudes confidence, respect, and refinement that comes with age. A lot of women simply don't want to be bothered with immature young men who doesn't understand how to treat a lady right, whereas an older guy knows what chivalry is and lives by it.
Essential Dating Advice for Men over 40
It might have been quite some time since you've last been on a date. You needn't worry because we've got a few bits of dating advice for men over 40 that you'll certainly want to remember, especially if you are serious about falling in love with someone.
Confront your fears. Contrary to what you could have been told in the past, you are never too old to fall in love. You may have thought that your previous marriage or relationship was your last chance at romance, but there are countless stories of people well into their 60s and 70s finding the one. When you approach dating in your 40s with an open mind, you might be pleasantly surprised by who you meet along the way.
Embrace the experience. Understandably, dating at this late stage in life can be a little nerve-wracking. It doesn't have to be, though. Instead of over-analyzing everything or worrying about this or that, embrace each experience and message for what it is. This is your best opportunity to meet new people, explore possible connections, and maybe make a connection with the individual that you're looking for. If you do have a bad experience with someone, chalk it up as a learning experience and try not to let it turn you off from online dating or dating as a whole.
Be self-aware. One of the greatest advantages you'll have over your younger counterparts is that you have plenty of experience with dealing with the fairer sex. Not just that, but you know what you have to offer someone, and you can rely on that to help win over the heart of that attractive woman you've got your eyes on. Since you are more self-aware, you are going to be in a better position to determine whether the person you're talking to is on the same page, relationship-wise, as you are, rather than when you were younger, and a whole lot of life left ahead of you. At this point in your life, you are less likely to settle for anything less than what you want in a partner.
Understand that you can be happy and single. We've been conditioned to think that to be happy we have to be in a relationship. This isn't true! In fact, it is possible to be happy and single. You don't have to settle for someone who is less than you want in a partner (as mentioned above), and because you understand that being in a relationship doesn't dictate your happiness, you don't have to worry. Should you meet someone that is everything you want in a partner, great! However, if not, you should be okay with that too.
One of the greatest aspects of being a member of a dating website like LoveAgain is that you can find someone who meets your expectations on a relationship level, but you now have an opportunity to make new friends, too. Whatever you're looking for, a companion, a partner, a movie buddy, or a pen-pal, all you have to do is sign up for a new membership and give LoveAgain a chance.