Start Dating Older Men with the Help of LoveAgain.com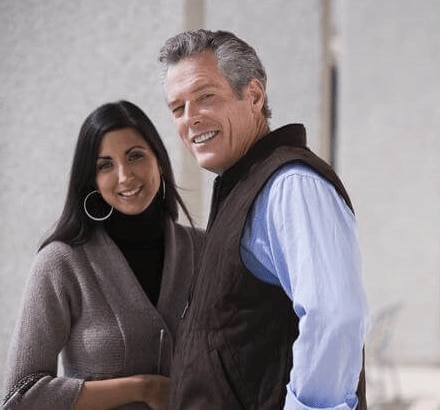 There is something incredibly alluring about the idea of dating an older man. Some people may not understand how an older man/younger woman relationship works, but it does, and it has worked for centuries. Granted, today it is more than just an arrangement between families and whatnot, but that is neither here nor there. There are a lot of excellent reasons you might want to meet older men and start dating them!
Perks of Dating Older Men
When you tell people that you are interested in dating older men, they automatically assume it is for monetary gain. While it may be true that some women do date older men because they tend to be generous with their money, it isn't the primary reason. In fact, there are a lot of perks of dating older men. For example:
1. He can show you things you've never seen/done before. He hasn't been around all these years just living under a rock after all! He's been living life, doing new things, and having the time of his life, too! So, of course, he'll probably want to share some of these experiences with someone special.
2. He is really supportive of your dreams and goals. He has a career, and his work life is pretty stable. He understands how hard it can be making your dreams a reality, but he is going to support you and your dreams every step of the way.
3. He knows who he is, and he doesn't make any qualms about it. He embraces everything that makes him, be it good or bad.
4. He isn't going to change who he is anytime soon. Unlike younger men whose personalities may change over time, when you start dating an awesome older man, you can safely bet that he will remain that awesome.
Exploring the Phenomenon that is Older Men Dating Younger Women
The idea of these older men dating younger women isn't something new or a trend that was created by dating websites. It's been a practice for centuries, and it doesn't seem like it is going to go away anytime soon. If you're an older woman, you might be perturbed as to why men your age want a younger woman instead of dating you. You might wonder what she has that you don't or what could they possibly have in common. While these are very valid concerns, one of the biggest reasons why younger women are so highly sought after by older men is because they tend to be vivacious and want to explore everything that life has to offer. To older men, younger women have an approach to life that helps the men feel young again; and let's be honest, who wouldn't want to recapture their youth?
Younger Women Dating Older Men is a Common Place
In the past, when you saw younger women dating older men, you probably thought that she was a mail order bride, a gold digger, or there was something creepy going on. Come on, admit it, no one really believed Anna Nicole Smith was with her husband because she truly loved him. However, it isn't uncommon for young women to find a connection with these older men that they just cannot find with men their own age. She finds that more often than not, the men that are closer to her in age aren't on the same page. These young guys want to party, have fun, and still do what they want. When she starts dating an older guy, those days are behind him, and he is much more willing to settle down and maybe start a family. Since these December/May relationships are becoming more acceptable, it isn't uncommon to find older men fathering children or getting married for the first time.
Where Can Younger Women Meet Older Men?
If you're a younger woman who is interested in dating an older guy, you might be wondering where you can meet them. Sure, you could meet local elderly gents wherever you go, but many times when you do that, you're judged, or meet men who are married. You can get around this by joining an online dating site like LoveAgain.com that is dedicated to helping single women like you find the man of her dreams. These dating sites have a reputation for introducing attractive young women with the sort of older guy she is looking for. For example, if you are interested in meeting a cultured man who has travelled, you can find him on the dating site. If you are looking for a wonderful man who enjoys cooking and a romantic evening at home, you can find him. The best part of joining an online dating site to meet the man of your dreams is that you can do it whenever you have a spare moment, and you can learn more about him before you even make an introduction thanks to his profile.
The only thing that is standing in the way of you meeting the man of your dreams is the fact that you haven't signed up. So, what are you waiting for? Sign up to LoveAgain.com today to start searching for your very own silver fox!